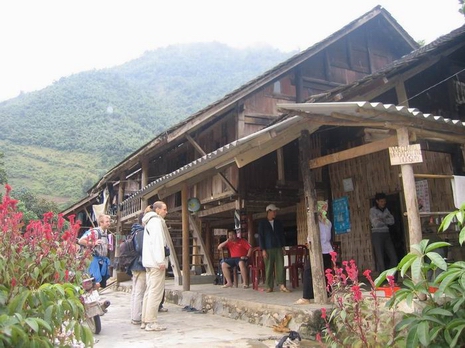 A popular form of accommodation in some places in northern Vietnam is homestay with ethnic residents. You live with the locals in their house and you share absolutely everything. Homestay is popular in Vietnam, especially in villages of ethnic minorities. However, you can also try a homestay in a city, for example in Hanoi. It was not allowed for ethnic residents to accommodate foreign tourists some time ago (except for the controlled tourist homestay, for example in Sapa), however now it is gradually changing.

• Do you want to know about the daily life of the ethnic population?
• Taste their food?
• Identify some cultural habits?
• Need a local guide?
• Stay on rice terraces or in the mountains?
• Sit with them and drink a rice wine?
• Or talk about anything?
• Do not expect around comfort and luxury?
Did you answered YES? Then surely test the real homestay in a village in northern Vietnam.

A lot of people from the ethnic minorities in a villages in northern Vietnam provides homestay in tourist but also in non-tourist areas. These people are usually not certified guides or employees of travel agencies. It is important that they know very well the place where they live and show you the right places and village life. Some of them have the basic knowledge of English, others speak English very well. They learn the English from the tourists who visit them. Communication is usually not a problem. If there is a communication problem, use your hands, or feet, you can also use Google translator.
For a high rate of authenticity it is recommended to try homestay accommodation with locals. But you must forget for the comfort and luxury around. Do you want to see the hard work in the rice fields or even try it, see how they kill a pig, or attend a wedding or funeral, to see how the local people make clothes? If so, you leave this place and Vietnam with experiences!

It is good to know, you give the money for the residents of the village and not the agencies and resellers. I participated myself in the New Year's Eve in the Hmong village. It was not evening, which we are accustomed, but I took an unforgettable experience. Another interesting experience was the funeral in a village of White Thai ethnic minority in Mai Chau town.

Tourist agencies and offices also offer homestay. These offers differs from the real type homestay, which offer local ethnic residents. A lot of foreign tourists use this type mainly due to good facilities and services. The working people can be from the some ethnic minority, but they have abandoned their traditions and customs and are employed by the Vietnamese agency.

This offer is often associated with the offer on trekking, after the trek they will take you to the imitation of true type homestay. But this house is very different from the true type of house of local residents. Do you think, that poor ethnic residents have WiFi, european style toilet, shower or even a bar next to the house? I think, they dont have almost anything. These treks and trips are managed in group of 6 to 10 people.