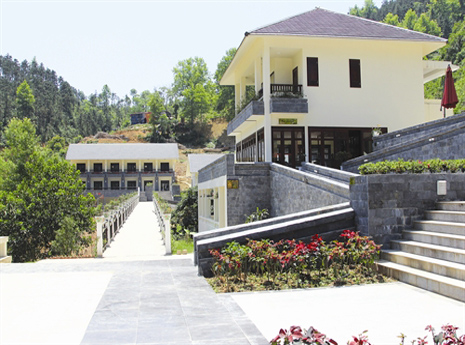 Saigon-Ban Gioc Resort is a four-star facility which spans a total of 31.15 hectares.
It overlooks Ban Gioc Waterfall, one of Asia's most resplendent rapids, which babbles through Trung Khanh District in the northeastern province of Cao Bang, which borders China.

Saigon-Ban Gioc is the first-ever four-star resort in the northeastern mountainous area, and Cao Bang Province in particular.

The facility boasts a modern style which harmonizes with its natural surroundings as well as the indigenous Tay and Nung ethnic minority groups' unique lifestyles.

The extravagant resort comprises a wide range of rooms, restaurants offering Asian and European delicacies alongside local specialties, and convention halls that can seat more than 200 guests.

These components, along with the reception area, have recently become operational in the project's first phase.

Construction has begun on other structures including 80 rooms, sports and recreation areas, spas and areas intended for camping and other outdoor activities.

The four-star Saigon-Ban Gioc Resort boasts simple yet tasteful décor and gorgeous views of the awe-inspiring Ban Gioc Waterfall and its environs.

What is special about the facility is that up to 95 percent of its employees are from the Tay and Nung ethnic groups who were born and grew up in the neighborhood.
All qualified candidates are trained in large hotels in Ho Chi Minh City.